On Thursday evening, rating agency Chambers and Partners named the best law firms in Europe at an awards ceremony in Milan. The winners were chosen based on the agency's market research and assessment of notable achievements, strategic growth and excellence in client service.
Gorrissen Federspiel was named "Law Firm of the Year in Denmark."
"We are obviously proud to receive such an important recognition from the world's leading rating agency in the legal profession," says Managing Partner Martin André Dittmer, who together with Chairman of the Board Niels Bang accepted the award in Milan.
For the fourth year in a row, clients have chosen Gorrissen Federspiel as their first choice in Denmark (Prospera). Thus, the award as "Law Firm of the Year in Denmark" is the latest culmination of the recognition of Gorrissen Federspiel's position in the market.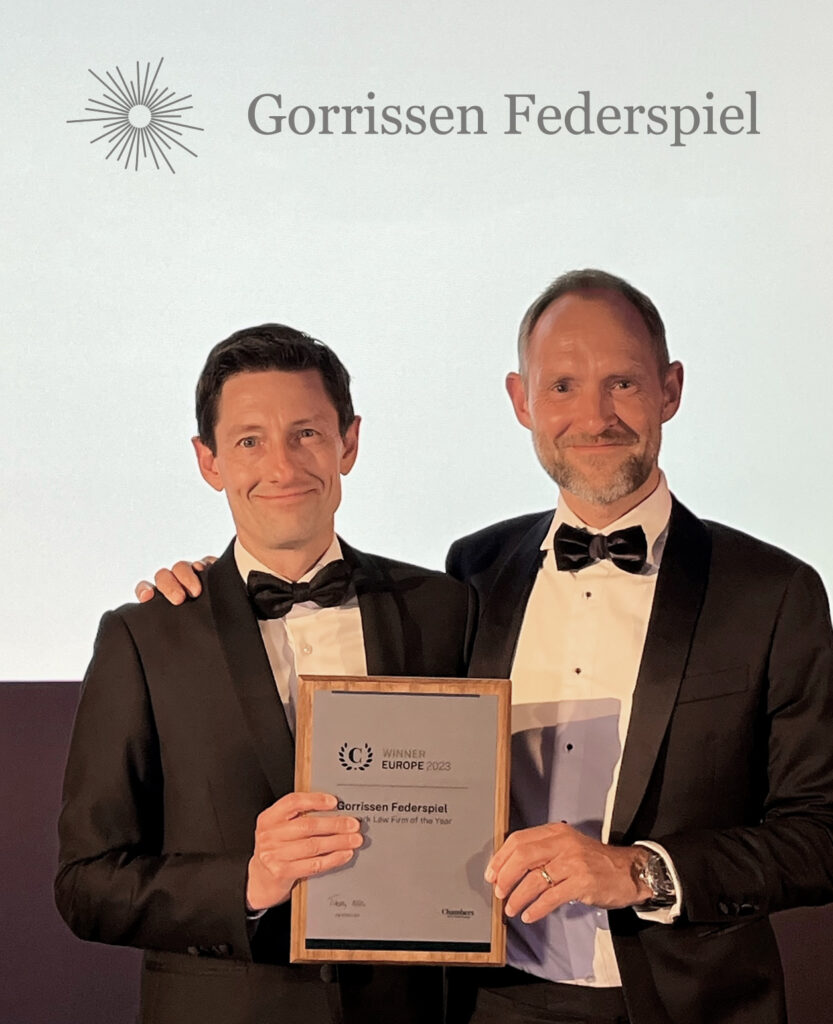 "The explanation is a consistent dedication to quality, business understanding and availability. In other words, it's a huge recognition of our employees and partners who execute our standards and values every day," says Chairman of the Board Niels Bang.
"We are extremely grateful to everyone who has contributed to the recognition we have now received on behalf of the entire Gorrissen Federspiel team. It's a joint effort and a shared achievement."
Managing Partner Martin André Dittmer also thanks Gorrissen Federspiel's clients, whose feedback in the market research contributes to the recognition.
"Receiving this recognition is a commitment. We would like to thank our clients and peers for their trust. We continue the work and the good dialogue to remain the preferred advisor for our clients," concludes Martin André Dittmer.
In the spring, Gorrissen Federspiel also achieved top rankings in the Chambers Europe ranking in the areas of Banking & Finance, Corporate/M&A, EU & Competition Law, Dispute Resolution, Information Technology, Restructuring & Insolvency and Shipping. Several partners and employees were also recognised for their individual achievements.
For further comments, please contact Communications Advisor Kasper Jessing, +45 26 66 92 27, or Managing Partner Martin André Dittmer, +45 24 28 68 27.
See Gorrissen Federspiel's rankings at Chambers Europe: https://gflegal.org/chambers
---
Chambers motivation for the recognition:
"Gorrissen Federspiel has an enviable number of rankings in the Europe 2023 guide, and is recognised in every practice area. In addition to its top-tier rankings in Banking & Finance, Competition/European Law, Corporate/M&A, Dispute Resolution, Information Technology and Shipping, the law firm also enjoys a promotion to Band 1 for its expertise in restructuring and insolvency. Gorrissen Federspiel also progressed to Band 2 in the Tax section and joined the Energy rankings in Band 3. Seven of its lawyers also advanced in the rankings, and four practitioners entered the directory. Clients state: "It is the best firm in Denmark when it comes to full-service corporate legal counselling."
European Legal Awards and Legal Celebrations | Chambers Events